Albury Botanic Gardens
3, 4, 10 & 11 March, 2017
Auditions
Saturday 17 & Sunday 18 September, 2016
Thurgoona Community Centre
10 Kosciusko Road, Thurgoona
Audition bookings are now OPEN for our 2017 show – 'Macbeth'
Download audition information and booking form from the following links.
You can book your audition using the trybooking link below.
For further information, contact Tanya on 0439 350 935.
 Currently in production with a wonderful cast…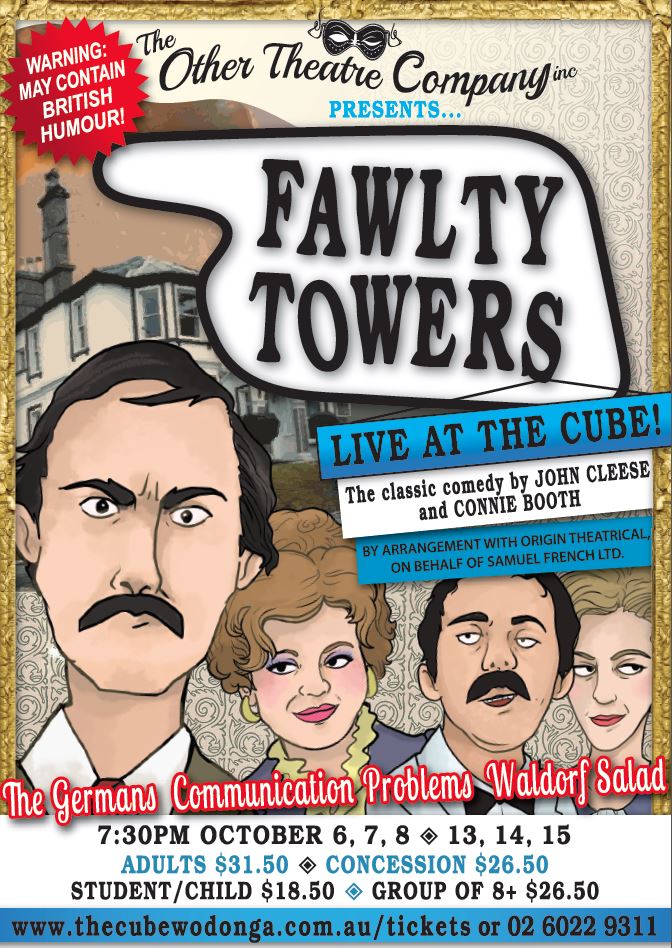 Basil – Columban Cox
Sybil – Colette Quinn
Polly – Kendall King
Manuel – Matt Lane
Major Gowan – Cleve Shaw
Miss Tibbs – Sarah Dudley
Miss Gatsby – Rachel Huntington
Terry – Scott Bishop
Sister – Mary O'Connell
Doctor – Andrew Baily
Mr Sharp – James Bowen
Mrs Sharp – Tanya Harvey
Mrs Wilson – Jenny Cartledge
1st German – Jacob McCrohan
2nd German – Drew Wighton
1st German Woman – Caitlin Bryce
2nd German Woman – Emily Strachan
1st Elderly German – Ken Pullen
2nd Elderly German – Nick Popovich
Mrs Richards – Rose Sexton
Mr Firkins – Andrew Baily
Mr Kerr – Ken Pullen
Mr Mackintosh – Nick Popovich
Mr Yardley – Tim Van Veen
Mr Thurston – James Strachan
Taxi Driver – James Bowen
Mr Johnstone – Drew Wighton
Mrs Johnstone – Ro McGillivray
Mr Arrad – Jacob McCrohan
Mrs Arrad – Tanya Harvey
Mr Lisbon – Ash Justin
Miss Hare – Caitin Brice
Miss Gurke – Emily Strachan
Mr Hamilton – Shane Douthie
Mrs Hamilton – Helen Lockhart
Please check our Facebook and Twitter pages for the latest news on upcoming events and shows.