Not a member yet? 
Members receive a

25%

discount to all our shows.
From $15 per annum.
The Other Theatre Company aims to develop and present a variety of theatre services that enrich the culture and lifestyle of the local community, and support creative, relevant, excellent and exciting theatre activity and development throughout the border region of Victoria and NSW.
We create, strive, establish and maintain, develop and cooperate.
•          Present opportunities to develop skills in all facets of theatre work
•          Create a transparent process for productions, from proposal through to performance. All members have the right and duty to ensure processes are equitable
•          Strive for excellence within a local talent cohort of actors, singers, musicians and production staff
•          Establish and maintaining partnerships and collaborations with local organisations within the local area
•          Develop partnerships and skills development opportunities with local secondary schools, their teachers and students
•          Cooperate with other theatre companies in order to extend the life of local theatre, optimise use of resources and promote the profile of regional theatre
The Other Theatre Company is a proud sponsor for Achievement in Wardrobe Design for the Georgy Awards.
Our Committee
Our committee is just that – a committee. Our purpose is to provide the means and frameworks necessary to put shows and events on. Production teams work in conjunction with the committee's support.
Valerie Ratcliff          President
Kate Lewis                 Vice President
Ro McGillivray          Secretary
Dawn Dawson         Treasurer
Contacting Us
The Other Theatre Company
PO Box 553
Lavington, NSW, 2641
Email: [email protected]
Production Proposals
If you have an idea, even if it's not fully formed, come along and talk to us. Our aim is to find ways to help you get your ideas on stage.
Download Links
Payments
Hume Building Society
Name: The Other Theatre Company
BSB:    640-000
ACC:   598937516 (non Hume members)
ACC:   111203045 (non Hume members (alternate))
ACC:   598937S16 (Hume members)
Paypal: Make Payment Now  (Please use theothertheatrecompany@gmail.com when making a payment.)
For identification please reference yourself and what you are paying for. eg JSMITH MEMB
Membership
Membership fees for The Other Theatre Company are set by the Company at the Annual General Meeting.
Membership fees are due to be paid to The Other Theatre Company prior to the commencement of the Annual General Meeting each year to ensure voting rights at the Annual General Meeting.
| | |
| --- | --- |
| Single | $20.00 |
| Student (Under 18) | $15.00 |
| Concession Card Holder | $15.00 |
| Family ( up to 2 Adults and up to 3 Children under the age of 18 | $40.00 |
The Secretary, PO Box 553, Lavington NSW 2641
Email: [email protected]
Entitlements
Each member of The Other Theatre Company will receive a membership card.
Current financial members will receive copies of meeting agendas and minutes and any mail outs to members including those on upcoming events.
The Other Theatre Company's Facebook page is accessible to the public and will contain information on upcoming events.
Productions
Membership of The Other Theatre Company does not guarantee a role in any production.
Anyone participating in any The Other Theatre Company production is required to be a current financial member for insurance purposes.
Members of The Other Theatre Company will receive a 25% discount on The Other Theatre Company event tickets on presentation of their membership card.
Insurance
Any person with current financial membership will be covered by The Other Theatre Company's Public Liability insurance.
Medical Conditions
To ensure the safety of all of our members, any member with a serious medical condition is encouraged to disclose this condition to the President or another office bearer/committee member prior to undertaking any activity which could put themselves or any other person at risk.
Sponsorship
We are very grateful to be supported and sponsored by local businesses who contribute financially to the success of The Other Theatre Company.
One of the ways you can contribute is to place an advert in the show's program.
Refer to the table below for the sponsorship packages available.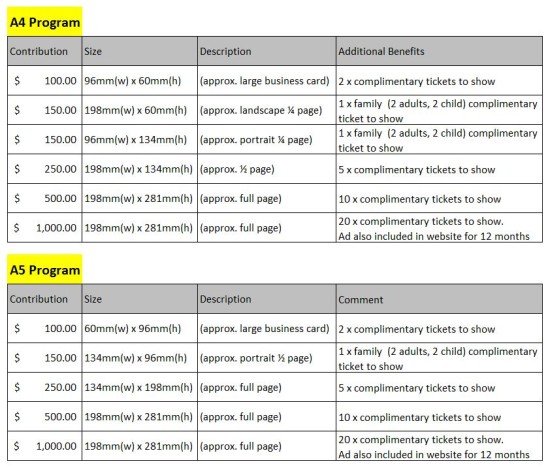 Some of our previous/current contributors.