Much Ado About Nothing
Albury Botanic Gardens, Albury
Fri, Sat March 13, 14, 20 & 21, 2015
William Shakespeare probably wrote 'Much Ado About Nothing' in the middle of his career in 1598 or 1599. It is one of Shakespeare's most widely performed plays, and certainly one of his most popular. The themes of love, mistaken identity, sexual jealousy, honour, betrayal and friendship all play out against the background of the Sicilian countryside.
The play examines the character arcs of Benedick and Beatrice, as they move from apparently detesting one another and disdaining love, to finally admitting their feelings for one another with the help of their friends. Both are tricked into admitting their feelings by the end of the play. The play also deals with Hero and Claudio as they fall in love, only to be nearly thwarted by the villainous Don John.
We also meet the Watch, Messina's police force, headed up by the self-important but comically idiotic Dogberry. He is assisted by Verges, and they head up a fine (well, sort of …) body of constables who save the day, in spite of themselves.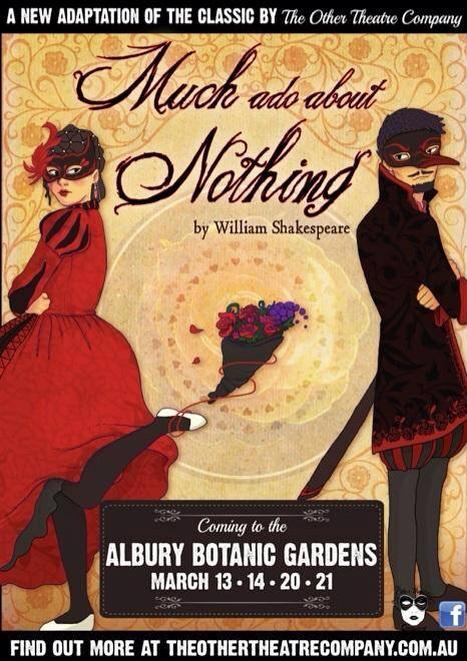 Trivia or Treat
Gateway Village Amphitheatre, Wodonga
Friday, October 31, 2014
Trivia or Treat is a fundraising evening for The Other Theatre Company, a group of passionate people in Albury-Wodonga.  The Other Theatre Company aims to develop and present a variety of theatre services that enrich the culture and lifestyle of the local community, and support creative, relevant, excellent and exciting theatre activity and development throughout the border region of Victoria and NSW.
Teams will answer holiday themed questions to compete for our Grand Prize – a night away for two people at Treverna Bed and Breakfast, located in the Rutherglen Wine Region.  There will also be the opportunity to win many more exciting prizes (and treats!)
There'll be music, laughter, great people, entertaining trivia, and the chance to be part of our efforts to enrich our already fabulous local community.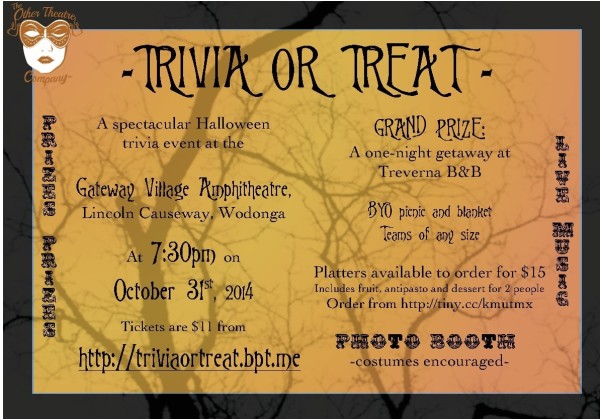 HEROES
The Cube, Wodonga
Thu, Fri, Sat August 14-16, 21-23, 2014
 Celebrated Australian actor John Wood (Gold Logie winner; Blue Heelers, Rafferty's Rules) is starring in a new comedy "Heroes" being staged here on the border at The Cube Wodonga in August 2014.
John will be proudly supported by a cast of over 40 talented local performers.
Presented by The Other Theatre Company and directed by Miguel de Oliveira, the show is written by local Mt Beauty based playwright Megan Rigoni, with original songs and music crafted by a number of very talented Australian musicians.
"Heroes" is set amongst the staff of the fictional "Drummer's Hardware Store" in a regional centre somewhere in rural Australia. We have a glimpse of the struggles, trials and tribulations of these every-day Aussie heroes as they deal with their relationship and health issues.
It is a contemporary portrayal of everyday Australian males dealing with health issues, grief, loss, and depression.
"Despite the serious themes, there will certainly be plenty of belly laughs for the audience – "Heroes" is above all, an uplifting comedy" said director Miguel de Oliveira.
Two dollars from every ticket purchased will be donated to RUOK? day, a not for profit organisation which encourages us all to ask that question of our family, friends, colleagues and strangers to promote the health and wellbeing of our communities.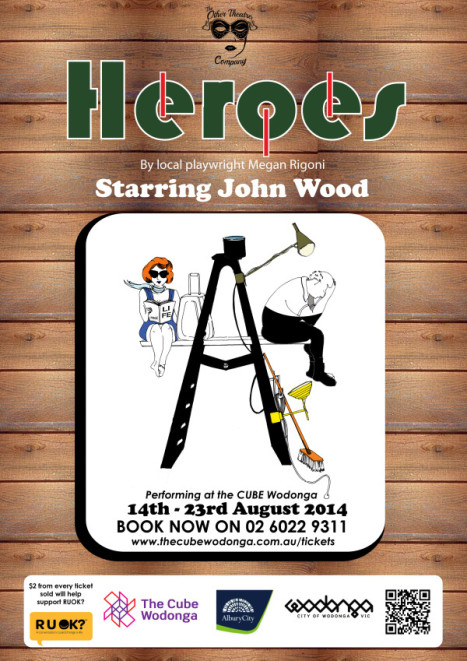 A Midsummers Night's Dream
 Albury Botanic Gardens, Albury
Fri and Sat March 7, 8, 14 & 15, 2014
 "Come and be enchanted by love all over again."
In a wood outside Ancient Athens two pairs of young lovers discover that "the course of true love never did run  mooth!" Encounters with the Fairy King and Queen, the real King and his betrothed Queen, the mischievous Puck, and  a band    of would be actors are the ingredients of this timeless comedy.
Proudly supported by the Albury City Council through the Community and Cultural Grants Program, this is the first production of a new local amateur theatre company – The Other Theatre Company.
A fresh script has translated the play into more Modern English making this the ideal production for those not familiar with the original language of the play. Bring the whole family and your favorite picnic, chair, or rug for a fun evening. Vendors will be on site to provide food and refreshments and a festive atmosphere.
Featuring a cast of over 40 talented local amateur actors, musicians and singers with spectacular costumes, singing,   dancing and music – this is a faithful adaptation of Shakespeare's original play. Plenty of laughs guaranteed.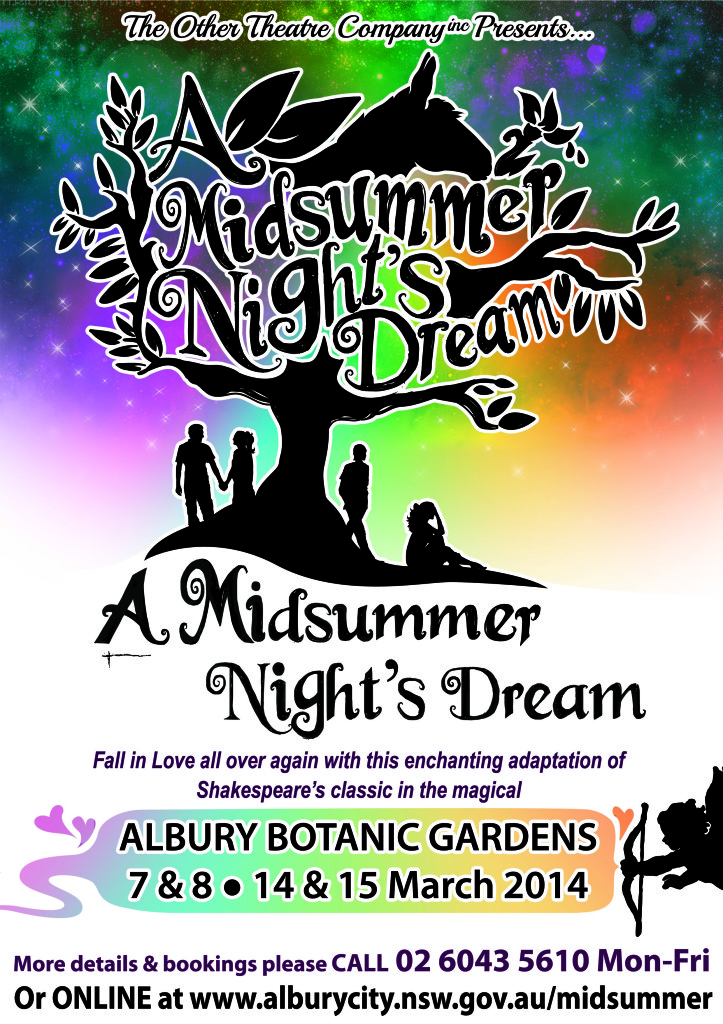 Valentine's Day Trivia Night
Commercial Club, Albury
Friday, February 14, 2014
To be or not to be… we couldn't wait for the Ides of March to run this fantastic night. Full of fun games and loads of prizes this irreverently romantic night is sure to please as your hosts take you on a trivia tour through movies, music, sports and more, with a Shakespearean flavour sprinkled throughout keep our Cupid content.  Costumes are highly encouraged.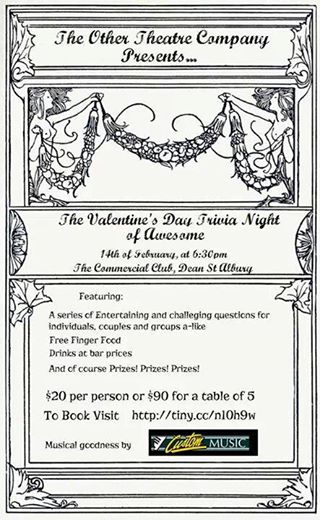 Children's Festival
Showgrounds, Wodonga
Sunday, October 27th, 2013
With singing, dancing and three talented entertainers on stage, the kids are going to love the chance to really be a part of When I Grow Up, a short play based on the well-known children's book. Two performances on the main stage means no Wodonga kids need to miss out! Produced, directed and performed by Kathleen Parry, Laura Uniacke and Laura Sheridan.